We Build Aluminum Boats
Pride in Craftsmanship... Attention to detail... The delivery of a quality product in a timely fashion... Is that too much to ask? At Craftsmen United, Inc. we don't think so either!
In 2005, Dan Wiggins started Craftsmen United, Inc. in Port Townsend, WA with three goals in mind. One, to bring together Craftsmen of various trades and give them a working environment and Employer/Employee relationship, which he himself always wanted. Two, pass his knowledge and that of his Craftsmen onto the next generation. We ensure that our up and coming Craftsmen are cross trained in multiple trades, allowing us to complete the same project for substantially less than other shipyards. And three, well... He kind of wanted to make some money along the way, too.
Aluminum Boat Repair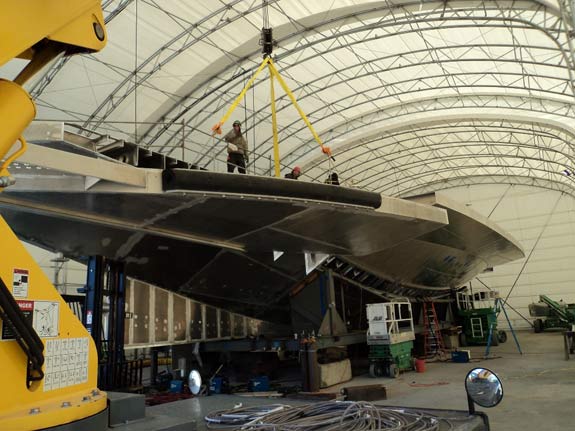 Our experience in aluminum boat repair has allowed us to take charge of and successfully complete some amazing projects, from relatively simple aluminum fishing boats to the FSF Seafighter, a high speed military catamaran, and most things in between.
If you are looking for aluminum fishing boats, look no further. From our own line of "Bull Dog" sport fishing boats to your 'Dream Boat' made a reality by our Boat Design and Naval Architecture Team. You ring the bell and we'll answer it!
When Dan started the design work on the 102' Landing Craft, he approached several boat designers for help in making one of their 'Dreams' come true and were stunned by the quotes they received. It was more affordable to hire a full time Naval Architect, so they did! Since that day, several fine Boat Designers, Engineers and Naval Architects have joined the Team. Dan and the Team at Craftsmen United are proud to be able to offer you the same excellent service we now provide others at affordable rates.
Aluminum Welding and Fabrication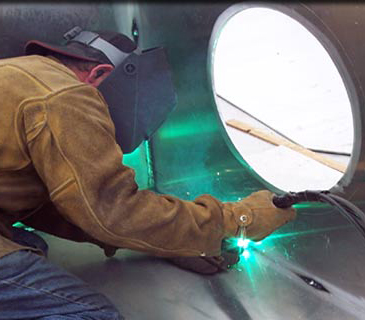 The Aluminum Welders at Craftsmen United pride themselves on their performance on aluminum fishing boats and catamarans, old or new. As many of you know, welding aluminum and aluminum fabrication can go horribly wrong in the best of conditions. From material handling to environmental control, you can rest assured your boat will receive only our very best!
Aluminum isn't always the answer, but sometimes it's a good compromise. Especially, if you want to modify a Pilot House or add to your above-deck structures, let us design, build and install the perfect Shelter, Top House or Mast to suit your needs.
Building or repairing your aluminum boats, be they Sport Fishing Boats or Passenger Catamarans, is just one facet of what we can bring to the table. Designing, installing or repairing your MSD, Electrical, Navigation or Fuel Systems are a few of the other facets.
Steel Boats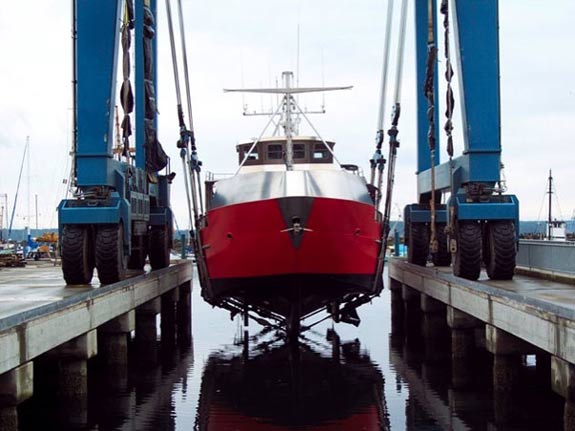 We don't shy away from the steel boats either. Dan cut Craftsmen United's teeth on the F/V Tanusha, a 58' Halibut Long-Liner owned and operated by Stan Sargent of Kodiak, AK. The Tanusha started life out as a Bruce Roberts Spray-Hull design converted for halibut long-lining.
Stan worked the Tanusha in and around the frigid, and more than a little dangerous, waters off the coast of Alaska for 4 years when he decided it was time to add a little more stability and fish hold capacity. He brought his boat from Kodiak, AK to Port Townsend, WA, the home of Craftsmen United, for a thorough sponsoning (widening).
Not only did Craftsmen United widen the Tanusha by 6', she also received a new Baiting Station Shelter, Focsole Shelter and Top House, all fabricated from aluminum. The added fuel capacity, back-up generator, visibility and a new shower large enough for three didn't seem to bother the customer too much. Did we mention the greatly increased stability?